Next Play Date May 15th!
Our next chapter play date is scheduled for May 15th at the Cumberland Municipal Airport in Cumberland, WI. Bring your airplane, your friends with airplanes, and be ready to have fun flying aerobatics while getting hints and tips from observers on the ground! We'll be starting at 1:00pm and going until 4:00pm.
If you are new to the sport of aerobatics, this is an especially great time to see what it's all about. There are members who are just getting into the sport that can tell you what they've learned so far as well as members who have competed in advanced levels of competition. It's all about learning and having fun, so come on out - we'd love to meet you!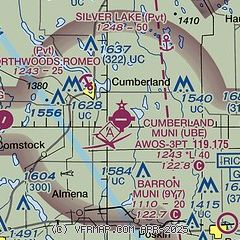 KUBE Airport Information, courtesy of AirNav.com